Lyon's Festival of Lights 2022
In this article you will find all the practical information you need to park during the Fête des Lumières, as well as its programme.
7 December 2022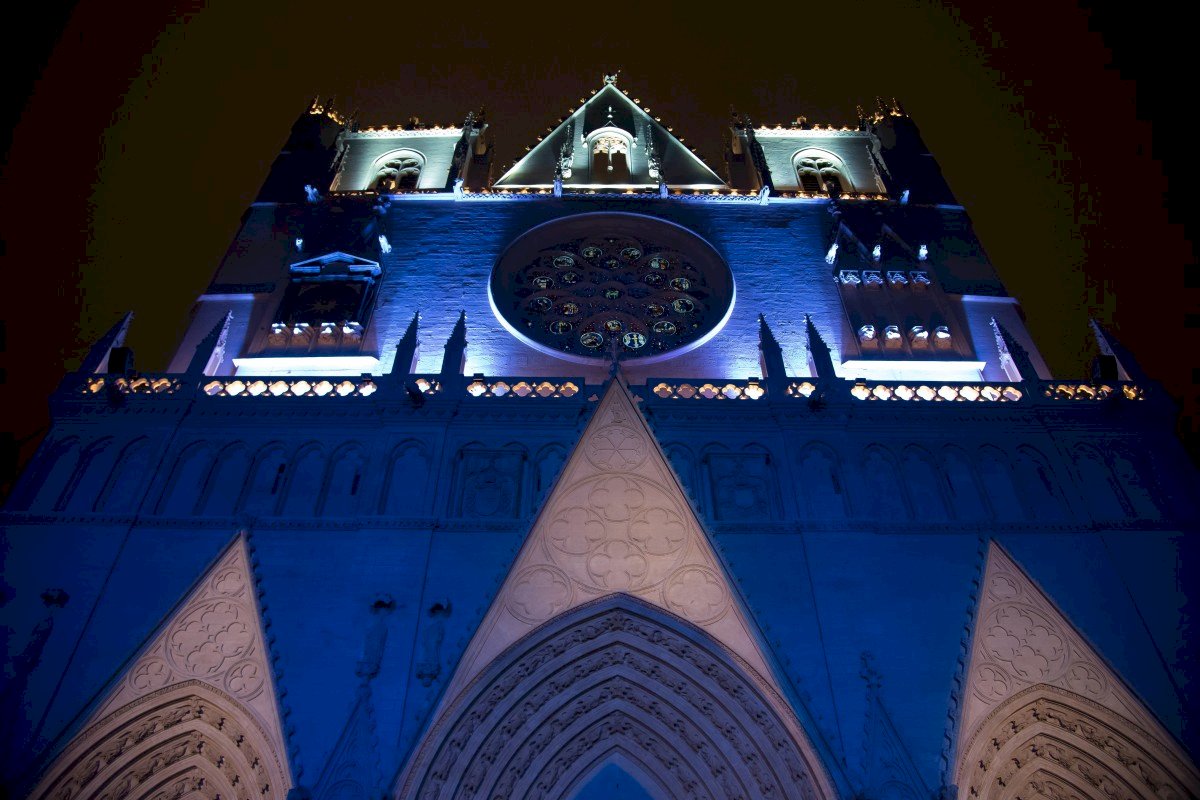 Lyon is known as the City of Light, but where does this nickname come from? It is probably because Lyon was built on the Fourvière hill facing east towards the rising sun. When Fourvière, the city's most famous basilica with a view over the whole of Lyon, was renovated in 1852, they bought a statue of the Virgin Mary. It was inaugurated on 8 December 1852, the day of the Immaculate Conception, and the people of Lyon lit candles to celebrate this long-awaited event. Since then, this tradition has continued and Lyon is known as the City of Light.
Where to park during the 2022 Lyon Fête des Lumières?
The 2022 edition will take place from Thursday 8 December to Sunday 11 December 2022. As every year, the different buildings of Lyon will be illuminated and the spectators will be able to stroll the streets while enjoying this majestic show, you can find the 2022 program a little further down in the article.
Finding a parking space during the Lyon Fête des Lumières
A lot of tourists are expected during this celebration in Lyon, we talk about more than 3 million tourists present during these 4 days. It will therefore be very difficult to find a parking space in the street, especially since a pedestrian area is set up and closed to traffic (cars, motorised two-wheelers, bicycles and scooters) from 6pm to 2am from Thursday to Saturday and on Sunday from 4pm to midnight. You can consult the pedestrian perimeter, by clicking here. Parking is also prohibited in the pedestrian area on the following streets: Rue E.Herriot, Rue P.Chenavard, Rue de Brest, Rue Gasparin, Rue E.Zola, Rue des Archers, Rue Childebert and Rue J. de Tournes (from Place des Jacobins to Place Bellecour), Rue J.Fabre, Rue du Président Carnot.
If you come to Lyon by car and you don't know where to park, we advise you to reserve a space in one of the following car parks and then take public transport to the centre. The first car park Zenpark Gare de Lyon Perrache - Odalys is available and close to the Metro A line allowing you to get to Place Bellecour, or even Place des Terreaux. The second car park Zenpark Musée Lumière - Place Ambroise Courtois is located a little further away, but is close to the Metro D line, which allows you to get to Place Bellecour or Vieux-Lyon (Cathédrale Saint-Jean).
Public transport available during the Fête des Lumières
On Thursday 8 December transport is free from 4pm. From 9 to 11 December, TCL is offering a special "TCL en fête" ticket which will cost you €3.30 per day, for unlimited travel from 4pm until the end of the service throughout the TCL network.
Lyon's Festival of Lights programme
The illuminations will take place from Thursday to Saturday from 8pm to midnight, and on Sunday from 6pm to 10pm, with a few exceptions, listed below:
- La Cathédrale Saint-Jean par Filip Roca
- Les façades des habitations de Fourvière par Jérôme Jouvray & Les Ateliers BK
- Le Temple du Change par Jakob Kvist
- La Gare Saint-Paul par Franck Dion, Cindy Lo, Kateryna Pits, Stéphanie Léonard
- Les SUBS par L'Atelier des Artistes en Exil, Nicolas Paolozzi, Collectif A/R
- La Place Sathonay par Les Grands Ateliers
- Le Musée des Beaux-Arts par Inook
- La Place Louis Pradel par Fred Sapey-Triomphe
- La Place de la Bourse par Jérémie Bellot
- La Rue de la République par Pitaya
- Le Quartier Grolée par Stéphane Masson
- La Place de la République par Luminariste
- La Place des Jacobins par Squidsoup*
- La Place des Célestins par Philippe Morvan
- La Place Bellecour par Collectif Fils de Créa : Marion Chauvin, Adrien Bertrand, Lucie Borel
- La Place Bellecour par Nicolas Ticot
- La Fondation Bullukian par Pierre Amoudruz
- La Place Antonin Poncet par Diego Ortiz & Hernan Zambrano
- Les Berges du Rhône par Encor Studio
- Le Parc de la Tête d'Or par Onionlab (no entry 30min before the end of each evening)
- Le Parc de la Tête d'Or par Studio Toer (no entry 30min before the end of each evening)
- Le Parc de la Tête d'Or par Javier Riera (no entry 30min before the end of each evening)
- Le Parc de la Tête d'Or par Direction des Événements et de l'Animation de la Ville de Lyon (no entry 30min before the end of each evening)
- Allée Achille Lignon par Ultravioletto (no entry 30min before the end of each evening)
- La Bibliothèque Municipale de la Part-Dieu par Studio Dichro – Leslie Labonne et Flore Siesling (project running until 31/03/2023)
- La Place Voltaire par BIBI (project running until 31/12/2022)
- La Manufacture des Tabacs par Pierre-Yves Toulot (no screening on Sunday)
- Le Jardin de l'Institut Lumière par Craig Morrison, Emilien Guesnard (Thursday-Sunday 5.30-9.30pm)
- Le Parc Blandan par Theoriz (Thursday-Sunday 5.30-9.30pm)
- Le Centre Hospitalier Saint-Joseph Saint-Luc par Emilien Guesnard (project running until 31/12/2022)