Visit the most incredible places in Amsterdam
Are you planning to go to Amsterdam and you don't know what to visit? Do not panic ! In this blog post, you will find 5 places you absolutely must visit during your stay in Amsterdam.
25 May 2023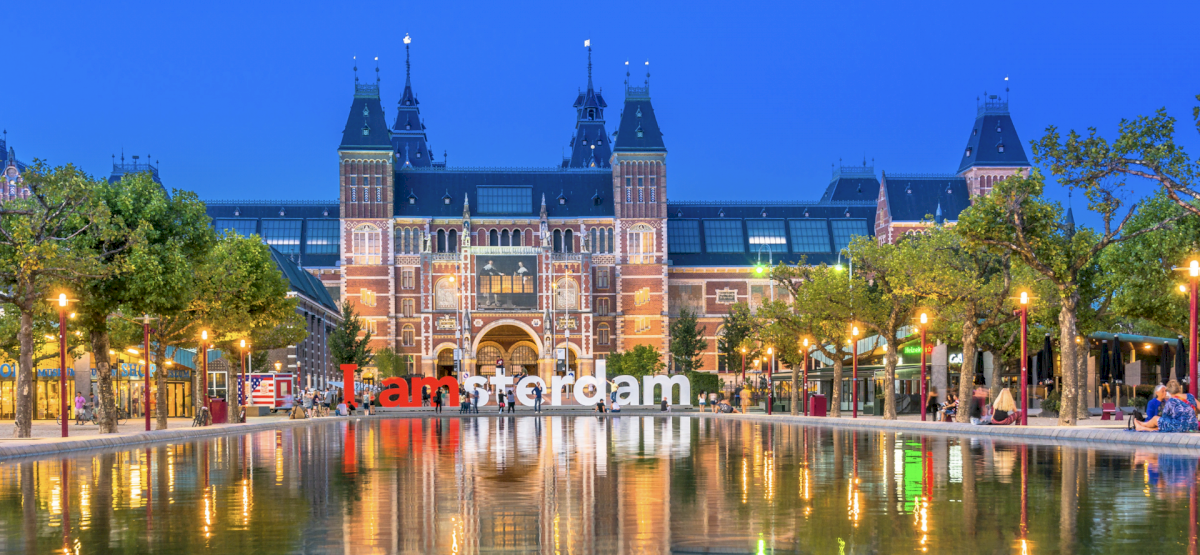 Amsterdam is a pretty city that has many things to offer to its visitors. The city is mainly known for its breathtaking tulip fields, but Amsterdam is also known for its culture and its museums.
During your stay in Amsterdam you will see that almost everyone travels by bicycle since traffic by car is almost impossible. It is therefore important that you keep in mind that the simplest solution, if you are drivinga car, is to park in one of the car parks in Amsterdam and get around either by bike, public transport or by foot.
If you want to go to Amsterdam for a short or a long time, you will find plenty of things to do, no matter your budget. Here are our 5 recommendations for places to visit in Amsterdam:
Amaze Amsterdam
The Netherlands are world renowned in terms of music, especially in terms of Electro music with DJs such as Martin Garrix, Fedde le Grand or Hardwell.
The Amaze Museum connects music and breathtaking visual divided into several rooms. It offers its visitors a unique audio-visual immersion in an environment filled with history and anecdotes. If you are a fan of music and art and want to live an extraordinary experience, this is the ideal place. You can find all the information on the official website of the Amaze museum.
The price of tickets varies according to the age of the visitor as well as his activity: please allow 13.50€ for children (up to 17 years old), 20.95€ for students and 26.95€ for adults. You should know that the Amaze museum has specific entry conditions, so it is very important to find out beforehand! The museum is easily accessible by transport and is located in the northwest of Amsterdam.
If you want to park near the Amaze Amsterdam museum, it is quite possible! Don't hesitate any longer, park next to the Amaze Amsterdam museum and take full advantage of this unique immersion without worrying about your car.
Book parking near Amaze Amsterdam
Visit the Anne Frank House
During your visit to Amsterdam, one of the greatest must-sees in the city, at the historical level, is to go to the Anne Frank Museum. The museum pays homage to the struggles that Jews led to survive during the Second World War. It is a place full of memories and history.
In this museum, you will find the whole life of a young girl who wrote during this period everything that happened around her and above all, how she had to hide for years as well as her arrest. His writings are known all over the world, notably with "the diary of Anne Frank".
Photo by Massimo Catarinella
We advise you to book your entrance tickets in advance to avoid long queues. The price of an adult ticket starts at 16€, those for children from 10 to 17 years old start from 7€ and below this age, count 1€. To book your entrance tickets, go to the official website of the Anne Frank House or to sites that offer the same service.
If you want to know where to park near the Anne Frank House, you have several options. However, you should keep in mind that the simplest solution is to park in one of the parking lots in Amsterdam and use public transport. Compare and book the car park that best suits your needs near the Anne Frank House.
Book parking near the House of Anne Frank
Van Stapele Biscuit Factory
When visiting Amsterdam, you should know that the tour is full of shops where you can find something to eat. If one day a sweet craving strikes you, and more specifically a craving for cookies, there is an address that everyone in Amsterdam is watering: the Van Stapele biscuit factory.
The Van Stapele biscuit factory is well known by locals as well as visitors since it sells only 1 type of cookie: a dark chocolate cookie with a white chocolate runny heart. Since its creation in 2013, the shop has not changed, nor has its recipe.
The price of the cookie is only €2.50 but, at this price and given the popularity of the store, expect to spend time in line. Indeed, the shop welcomes hundreds of visitors every day and its schedule policy is very specific: the shop opens at 10 a.m. and closes when the last cookie is sold. We therefore recommend that you get there early to make sure you can taste the Van Stapele cookies!
Finally, keep in mind that the Van Stapele biscuterie is located in the city center of Amsterdam. If you want to drive and park near the Van Stapele Biscuterie, book parking in advance for your car and enjoy Amsterdam to the fullest!
Book parking near Biscuterie Van Stapele
Zaandam
Amsterdam is known for its pretty landscapes, but did you know that just 7 minutes by train from the city is another very pretty town called Zaandam. The city of Zaandam is known for its unique architecture and unusual houses. If you want to get away from the city center of Amsterdam, Zaandam might be a good option!
On site, you can enjoy the many attractions of the city such as its windmills, many shops and restaurants or even the Inntel Hotel Zaandam. Walk all around the city and near its quays to admire its magnificent views.
Photo by Microtoerisme
Visiting Zaandam is a must do if you are in Amsterdam and want to get away from the city center. Located only 7 minutes by train, it is a good option to get around easily and without necessarily taking your car!
The best option to get to Zaandam is to park near Amsterdam Sloterdijk station and take the train. Several car parks are available near this station, choose the one that meets your needs and enjoy your trip to Zaandam without worrying about your car.
Book parking near the Trainstation of Amsterdam Sloterdijk
Stroll along the quays
Our last recommendation of places to visit during your stay in Amsterdam is to visit and stroll around the city's quays. The city has several districts that allow you to stroll along the quays and admire the views of the city and its architecture.
This activity can be particularly pleasant when the weather is favourable, so you have two options for visiting them: either by bike or on foot, it's up to you!
During your walk, you will find many shops as well as a few bars and restaurants particularly appreciated by locals and visitors alike. If you want to go somewhere in particular, find out beforehand so that your visit to the Amsterdam docks goes smoothly!
Photo by M.Minderhoud
If you decide to go to Amsterdam, you now know which are the 5 places to visit during your visit to the city! Keep in mind that the easiest option to get around Amsterdam is by public transport, by bike or on foot, but not by car. Find the car park that best suits your needs with Parkimeter and make the most of your trip to Amsterdam!