Where to park at Barcelona's Cruïlla Festival 2023
Where to park near the Parc del Fòrum for Barcelona's Cruïlla Festival 2023
3 July 2023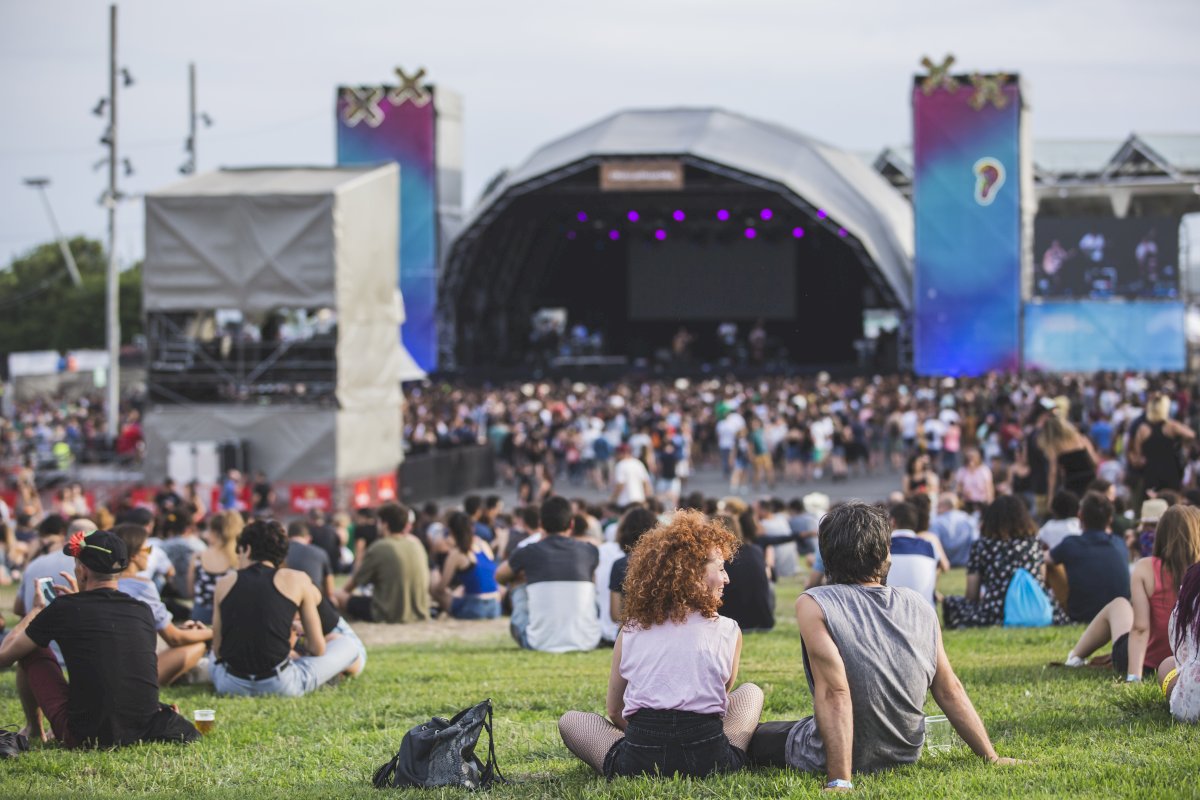 The city of Barcelona is renowned for its vibrant music scene and cultural events, and one of the highlights of the summer is undoubtedly the Cruïlla Festival. Bringing together an eclectic mix of musical genres, artists, and comedians, the Cruïlla Festival has become an unforgettable event that can't be missed for music lovers and all from around the world. This year the Cruïlla Festival returns from 05 July to 08 July 2023 at the Parc del Fòrum providing a once in a lifetime experience. In this blog post, we will delve into the heart of the festival, providing you with a comprehensive overview of where to park, how to get there, and what to expect at Cruïlla Festival 2023.
Parking at Cruïlla Festival 2023
Street parking near Parc del Fòrum for Cruïlla Festival 2023
It should be noted, there is no parking at the Parc del Fòrum making street parking appear as the most convient option. However, it often turns out to be the opposite and in many instances, finding a free space is not an easy endeavor. More often than not, you have no choice but to repeatedly circle around until you find a free space. This immense effort to park on the street wastes your time and causes unnessary stress. To reduce time spent searching, the possibility of traffic fines, bad parking or getting unlucky, we recommend you leave your car in a public car park.
If you do not wish to leave your car in a public car park, you should know that street parking is limited. There are few spaces available and they are heavly regulated, i.e. blue or green zones. The maximum time limit for these parking spaces can be between 2 to 4 hours. Though, one street you might be able to find several parking spaces is Calle Lull.
Parking in a public car park near the Parc del Fòrum for Cruïlla Festival 2023
If you want to steer clear of frustrating and worrisome situations related to your vehicle that could negatively impact your experience before or after the event, we recommend that you book a parking spot in advance at a public car park to circumvent any last minute surprises. In doing so, you will completely avoid encounters with red "full" signs and excessively driving around in circles hunting for a free space on the street. Thanks to specialized online platforms that search and compare prices and help with booking parking reservations such as Parkimeter, you will be able to find an option that suits your needs in terms of proximity to the destination, prefered price points, schedules, etc. Moreover, it offers you some reassurance and ease knowing that your car is parked in a place that has surveillance systems.
How to get to Cruïlla Festival 2023
As previously mentioned, the Cruïlla Festival takes place at the Parc del Fòrum, a public park created in 2004 to hold the international cultural event Fòrum Universal de les Cultures. Despite its name, the Parc del Fòrum is less of a park and more so an open area that offers a host of amenitities and sponsors an array of events that can retain 65,000 attendees. It was completely renovated and renders a unique experience in Barcelona. The park is located in the northern part of the city, between Avenida Diagonal, Carrer Taulat and Rambla de Prim.
To get to Cruïlla there are several options, including public transport which is typically the favorite to avoid having to search for parking in the area. The lines that run close to the Parc del Fòrum during the day are 43, 7, 36, 141 or 41 and the night-time lines N6 and N7 will get you to the venue in a matter of minutes. If you plan to take the metro, it would be best to get off at "El Maresme - Fòrum" on L4 (yellow), it is one of the most prefered options due to its proximity to the Parc del Fòrum.
If you are planning to arrive at the Cruïlla Festival by car, you should know that it is not possible to park at the Parc del Fòrum due to the venue not being equipted with parking spaces inside of it. Thus the questions still remians, how and where do you find parking near the event? If you are already stressing about your car and contemplating where to park, read our tips on where to park at the Cruïlla Festival 2023 in Barcelona and your car will no longer be a problem!
Top musicians, comedians, artists who will be featured at Cruïlla Festival 2023 in Barcelona
Musicians
Wednesday 5 July
Nicki Nicole / Sen Senra / Delaossa / Cruz Cafuné / WOS / Rusowsky / La Élite / Las Ninyas / Del Corro / Santa Salut / Triquell / Lia Kali / Yelico X Toni / Tesa Thursday 6 July
Rubén Blades con Roberto Delgado Big Band / Tash Sultana / Bomba Estéreo / Omara Portuoando / Los Van Van / Iseo & Dodosound / Rodrigo Cuevas / Miss Bolivia / Judit Neddermann / Nanpa Básico / Lal'Ba / Nico Roig
Friday 7 July
The Offspring / Sigur Rós / Alt-J / Franz Ferdinand / Viva Suecia / Carolina Durante / Sidonie / Cupido / Ladilla Rusa + DJ Nacho Ruiz / Cala Vento / The Guapos / Ciudad Jara / Sexy Zebras / Peces Raros / Menta / Victorias / Pinpilinpussies
Saturday 8 July
Placebo / Leiva / Antònia Font / Moderat / Parov Stelar / Amaia / Dani Fernández / Stay Homas / Pau Vallvé / Ramon Mirabet / Carlangas / Suu Shego / Renaldo & Clara / Mourn / Sienna
Comedians
Over 40 established and up and coming comedians will be perforiming on July 7 and July 8 on the Vallformosa stage at the Cruïlla Festival 2023 in Barcelona. Take a look at some of the performers and join for some laughs and a good time!
Friday 7 July
Andrés Fajngold / Charlie Pee / Iggy Rubín / Manel Vidal / Oye Sherman / Patricia Espejo / Xavi Daura / Albert Floyd / Ana López / Andrea Farina / Carmen Romero / Enzo Vizcaíno / Eñaut Zuazo / Irene Minovas / Març Llinàs / Raquel Hervás / Raventós / Sergio Bezos / Vanessa Lokiu / Yael Brusca / Yunez Chaib Saturday 8 July
Adri Romeo / Ana Polo / Bianca Kovacs / Carmen Lynch / Ignasi Taltavull / Ignatius Farray / Marc Sarrats / Pablo Ibarburu / Abi Enrech / Alexis Deiz / David Arnau / Elisenda Pineda / Godai Garcia / Hannah Becker / Joseph Català / Kike García/ La Prados / Litos Fernández / Tomàs Fuentes
Cruïlla Artists
The Cruïlla Festival will be reintroducing live art from 5 July to 8 July that is sponsored by Disseny Hub and the Barcelona City Council's Department of Tourism and Creative Industries.
There will be combat between illistartors who will create live during the festival, including Ricardo Cavolo a famous international artists; Lyona a filmmaker and illustrator; Emily Eldridge an American artist who lives between Barcelona and Berlin; Asis Percales; and La Mandanga.
Street Art
The 16 winning artists of Street Art by Ametller Origen contest will also be featured:
Adrián Mateo / Atena, Maga / Christian Sasa / Rice / Lalone / El rey de la ruina / Etienne Cristoffanini / Iván Bravo / Joan Alturo / Jota López / Malpegados / Martz / Paula Cabral / Pep Walls / Konestilo
Muralism
Two large murals will be created by Wedo Goás and Zeso WF in Collaberation with the Gargar Festival, the Festival of Murals and Rural Art of Penelles.
Installations & Scenography
There will be works such as the Llum de Saló created by Un Parell d'Arquitectes, Clàudia Calvet and Xevi Rodeja, The Great Gorila by Antigua i Barbuda, and the scenographer and film director Lluís Danés will design the Estrella Damm stage.
Tickets for Cruïlla Festival 2023 in Barcelona
You don't want to miss out on this opportunity! Get tickets that suit your wants, whether that is a day ticket, weekend pass, or 4-day pass.
If you wish to experience the whole festival to the fullest you can puchase premium pass to get all the tickets with an upgrade or you can purchase a 4-day pass. 4-day ticket is valid for the 5, 6, 7, and 8 July 2023 and cost 160 euros plus expenses
If you want to skip out on 5 July you can purchase a 3-day pass instead. The 3-day tickets are valido for 6, 7, and 8 July 2023 and cost 145 euros plus expenses
The Festival also offers a weekend pass if your favorite artist are only playing on the 7 and 8 July 2023. The tickets are about 135 euros plus additional expenses
For those who's favorite performers are on specific days, don't worry they did not forget about you. You don't have to waste your money on mutli-day tickets and see performers that are not to your taste.
Wednesday 5 July tickets - 40 euros + expenses Thursday 6 July tickets - 52 euros + expenses Friday 7 July tickets - 85 euros + expenes Saturday 8 July tickets - 85 euros + expenses
For more information you can visit the official website at https://www.cruillabarcelona.com/en/tickets/
Take advantage of this momentous occasion to experience a variety of musicians, comdians, and artists well-renownded and emerging! Make some memories at the Cruïlla Festival without the stresses and struggle of finding parking. Book your spot now with Parkimeter to avoid any obstacles that might be thrown your way!