Where to park at the Olympic Stadium to see Barça?
The Camp Nou will be under construction until 2024. The new home of Barça is the Lluís Companys Olympic Stadium. Don't know how to get there? Keep reading!
24 August 2023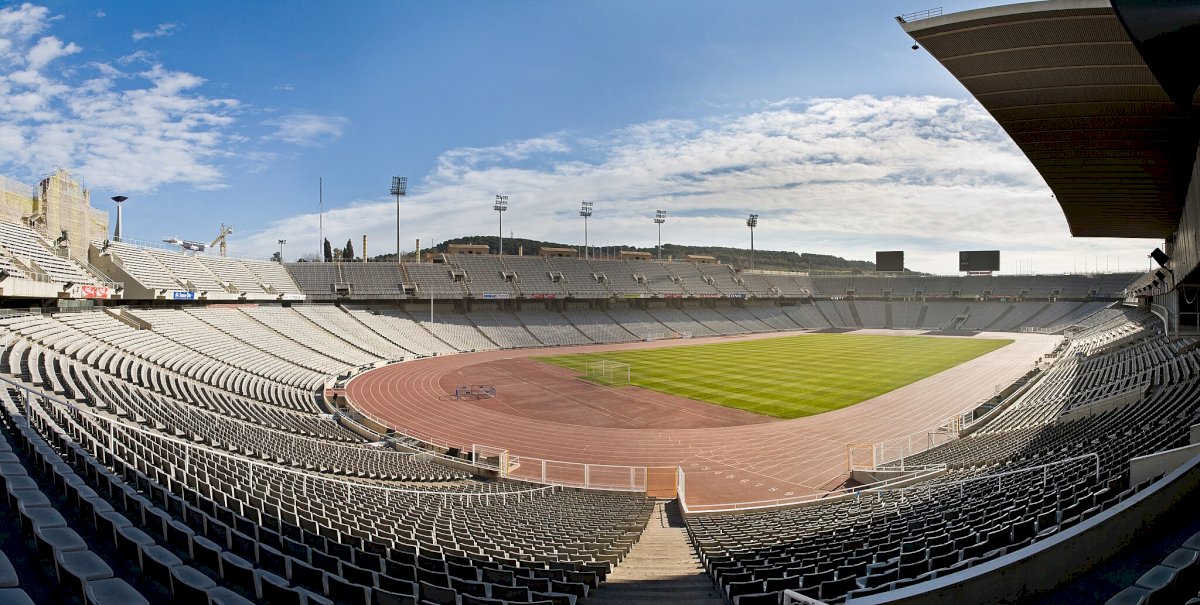 The Spotify Camp Nou is under construction, but that wasn't going to leave the fans without a match. The Estadi Olímpic Lluís Companys is the new home for the culers, a decision that has brought much controversy due to the mobility challenge it poses. If you don't know where to park to go see Barça, we'll tell you at Parkimeter!
The stadium's renovations will be completed by March 30, 2026, although if all goes well, it's planned that by November 30, 2025, the Camp Nou will be ready to host matches. Currently, the blaugrana team's matches are held at the Estadi Lluis Companys, a stadium designed by Pere Domènech i Roura (son of the modernist Lluís Domènech i Montaner, the architect of the Palau de la Música Catalana and the Hospital de Sant Pau). It was designed to host the 1992 Olympic Games. For the city of Barcelona, it's an icon of the era that changed everything in the city. Since then, the stadium has hosted thousands of sports and music events. From the Rolling Stones to David Bowie, and most recently, the Beyoncé concert on her Renaissance World Tour, the stadium has witnessed many unforgettable moments.
This isn't the first time the Estadi Olímpic Lluis Companys has been the home of a Catalan football team. Previously, until the inauguration of the Cornellà-El Prat Stadium, the Real Club Deportivo Espanyol played their home matches there. The stadium also holds UEFA Category 4, allowing it to host continental competition finals. To reach the stadium comfortably, improvements have been made to the route, such as increased lighting points, improved pavement, and proper maintenance of the escalators for easy access. Private cars are not allowed to access the Estadi Olímpic, as the Barcelona City Council has opted to promote the use of public transportation.
Book a parking lot at Estadi Olímpic Lluis Companys
Getting to Estadi Olímpic Lluis Companys
During this period when Camp Nou won't be operational, 2,000 parking spaces have been provided at Fira Gran Via, at the foot of Montjuic hill. Therefore, after parking, you can only ascend on foot, by funicular, or by shuttle. There are sufficient alternatives to reach the match on time thanks to Barcelona's excellent public transportation network. Just a bit of planning is all you need!
A shuttle bus has been set up to transport attendees to the stadium. The shuttle stops at Carrer del Foc and Maria Cristina 2-16. It's a special free service; you'll only need to show your ticket or FCB membership card to board. It departs every three minutes and starts operating two hours before the match. The last shuttle departs an hour and a half after the match ends. Keep in mind that the buses that used to take this route are still in service, so if you see a bus going up to Montjuic, don't hesitate, get on it and don't wait for the shuttle!
Parking at Estadi Olímpic Lluis Companys
You might be wondering where to park to go see Barça. Don't worry, as at Fira de Barcelona Gran Vía, there are 2,000 parking spaces available for you to park your vehicle. Considering Estadi Olímpic has a capacity of 55,926 people, 2,000 parking spaces might not be enough for all match attendees, so you might end up without a spot and have to search for parking in Barcelona.
In the Plaza España area, right at the base of Montjuic, there are some areas where you can also find parking, such as the parking at Centro Comercial las Arenas or some parkings near Estadi Olímpic Lluis Companys.
Remember, you'll always have to take the shuttle, funicular, or walk to reach the match, so arrive early, as there are long queues both for walking and for the shuttle.
To save time, considering the great Barça fanbase, it's best to plan ahead for the match and reserve your parking spot with Parkimeter.
Now that you have all the information you need, all that's left is to don your team's jersey and feel their colors. Park your car quickly and safely and enjoy the match! Reserve your parking spot to watch FC Barcelona play!