Where to park for New Year's Eve 2022 in Madrid
Are you looking for where to park for New Year's Eve in Madrid? Here we give you all the tips to park near the Campanadas 2022.
27 December 2022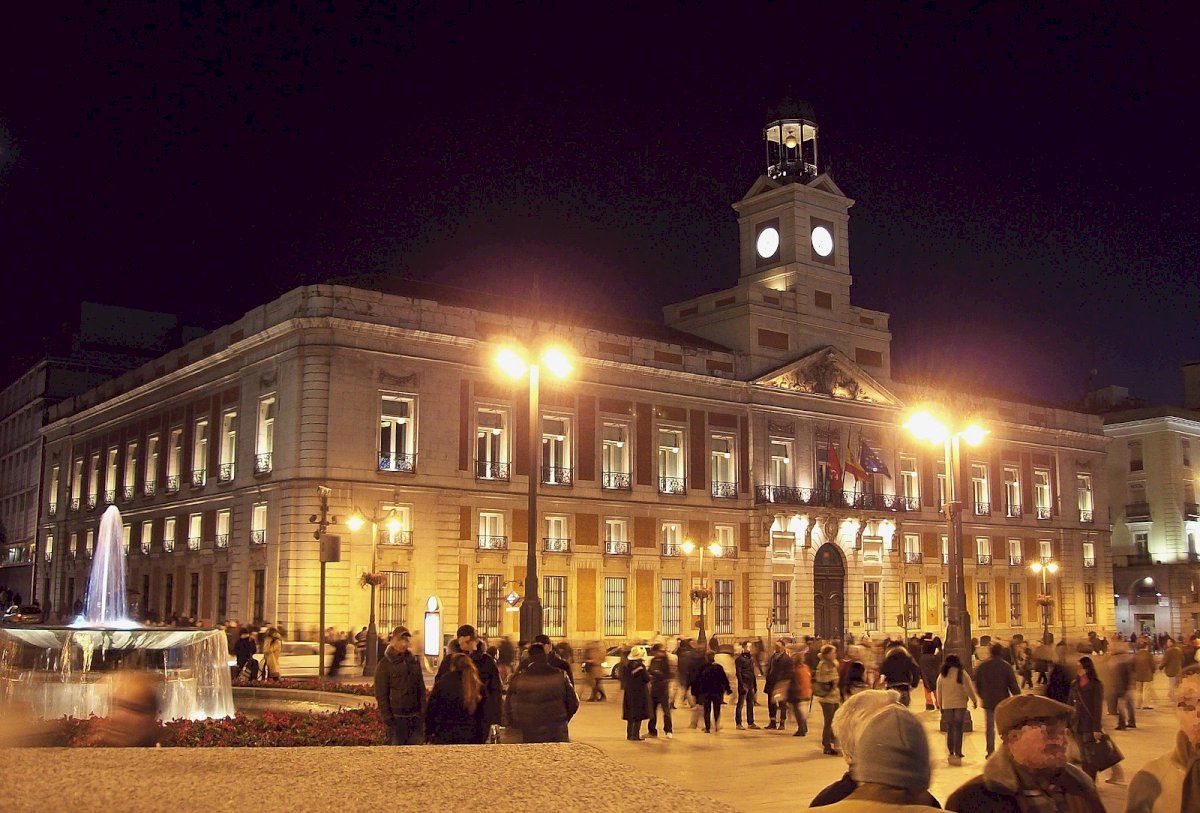 Are you thinking where to park for New Year's Eve in Madrid? Nothing like parking near the famous Campanadas de Madrid 2023. This is one of the most important events of the year that takes place every December 31 to say goodbye to the year and welcome the next one. For those of you at home, you can watch it live on TV all over Spain, but definitely nothing compares to seeing the whole spectacle in person!
This day is filled with joy, company and euphoria to welcome the year. An indescribable atmosphere of illusion and desire for a new beginning full of goals and dreams to fulfill. Usually, it is celebrated at the Puerta del Sol and this December 31, 2023 will be no exception. Here people gather to wait for twelve o'clock looking at the clock of the Casa de Correos. Once the hour arrives, the twelve bells start ringing, just the time to start eating the twelve grapes that represent each month of the year and every wish you want to make. This experience is definitely something you can't miss, it's totally free and you can enjoy a front row seat to the splendid fireworks!
Parking at Puerta del Sol for the Campanadas in Madrid 2023
If you want to park at the Puerta del Sol to attend the Campanadas in Madrid, there are some parking lots that are ideal to do so as parking Plaza del Carmen, parking Jardines 16 - Centro Madrid, parking Fermar, parking APK2 Plaza del Rey and are between 3 and 9 minutes walk from the Puerta del Sol.
As the place where this event takes place is the downtown area, it can be difficult to find available parking spaces, especially on this day, as thousands of people from everywhere crowd the square to listen to the chimes. For this reason and for convenience, we recommend you to book your parking in advance. This way you avoid wasting your time looking for parking for long hours. To find parking, compare rates and book easily and quickly, do it through Parkimeter.
Parking on the street in Madrid for the Campanadas 2023
Another option is to park on the street to go to the Campanadas, but the ideal is to look in time and it is advisable to do it well before the late hours of the night. If you want to park near where the chimes take place, it may be complicated, as the area is currently under construction and it is likely that some streets will be closed.
On the other hand, moving away from the downtown area may give you a better chance of finding available parking. It is important to know that parking in Madrid is regulated. There are different zones (green, blue, mixed and high rotation).
If you are a resident, the green zone gives you priority. You can park without time limits, as long as it is in your neighborhood. If, on the other hand, you are not a resident, you can park there for a maximum of 2 hours.
Anyone can park in the normal blue zone. The maximum parking time is 4 hours. You will have to pay the corresponding fee, which you can see on the parking meter placed on the street. If you are a resident you can park from 20 to 21 hours in your neighborhood.
Important: In both zones, once the maximum parking time has elapsed, you cannot park unless one hour has passed since the last time.
Blue-white zone, i.e., high turnover. In this zone anyone can park their vehicle, as long as they have an environmental badge. And all people must pay a fee when parking here with a maximum parking time of 45 minutes.
Book a parking close to Puerta del So
Free parking in Madrid for the Campanadas 2023
For free parking for the Campanadas in Madrid you can do it mainly from 15:00 on Saturdays, Sundays and holidays. We recommend you to look for parking in advance on these days.
You can also park in areas further away from the center and take public transport to get to the Campanadas, for example, to Puerta del Sol. We recommend you: Paseo de Extremadura, Calle Alcalá, Usera, Barrio del Pilar, Zona de Moncloa.
Another way to park for free is to see the parking hours of the green and blue zones and park outside those hours. If, on the other hand, you see white zones, this means that parking is free.
In any case and to ensure correct parking, we advise you to check the conditions at the parking meters, as well as the colored markings that are usually painted on the parking spaces on the streets.
**It is important to note that in order to access the downtown area, you must have an environmental badge and/or a B or C sticker to be able to park.
If you think you go too far to park or the area does not look safe, we recommend you to park your car in a paid parking, that for a few euros that you will possibly pay at the parking meters in the streets, your vehicle will be safe and you can enjoy the Campanadas without worries to receive the new year as it should.