Where to park near to christmas markets in Madrid
In this article we show you the most beautiful Christmas markets in Madrid, outdoor spaces where you can spend unique moments
1 December 2022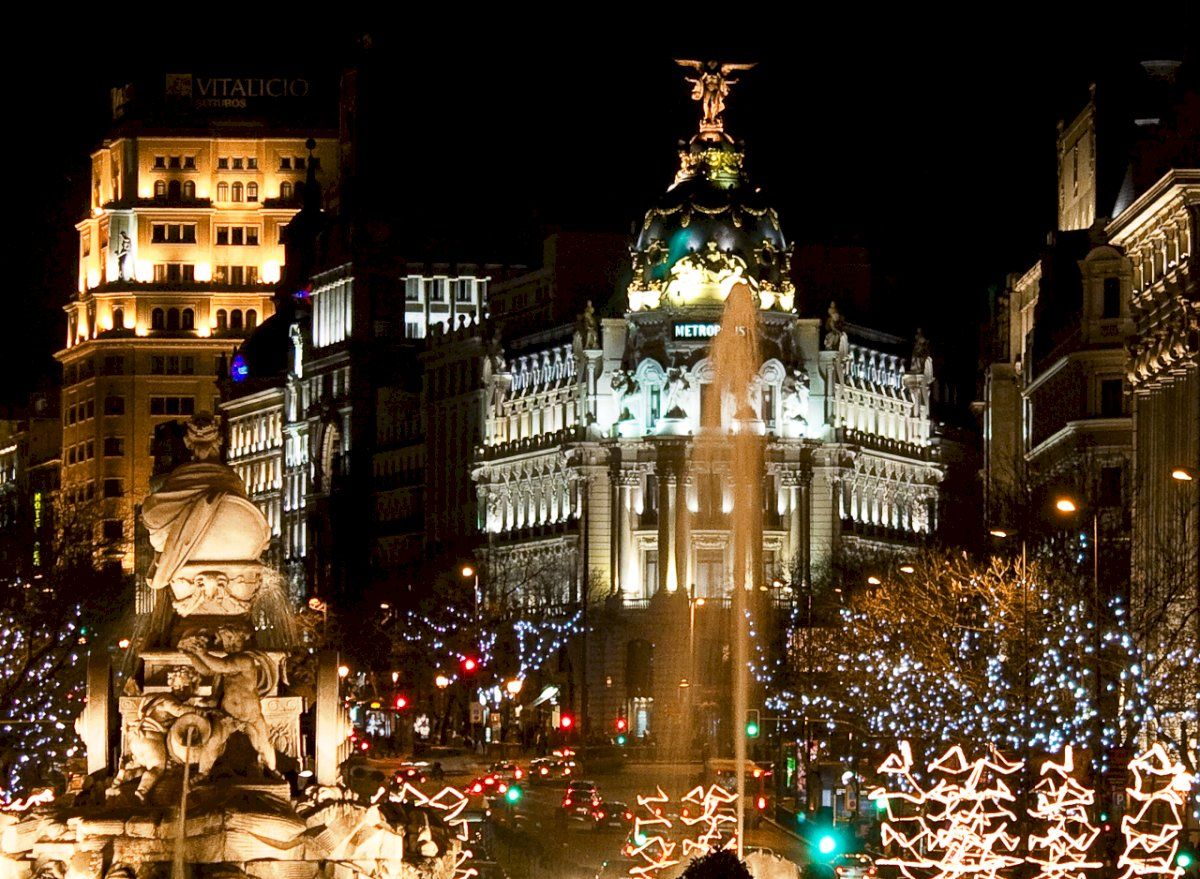 Madrid, Spain's cosmopolitan capital, is ready to celebrate the coming Christmas with you and transform itself into a real city of wonders: lights, parades, parties and shows, music and more will be the order of the day in November and December, ready to give you a joyous boost of positivity in the run-up to the most anticipated festivities of the year!
During this period the city has so much to offer in terms of events, but a visit to at least one of Madrid's Christmas markets is absolutely essential. Read on to find out which Christmas markets in Madrid we absolutely recommend you see!
How to get there and where to park in Plaza Mayor
The Christmas Market in Plaza Mayor is the most traditional, classic market in the city, giving a feeling of warmth and joy to those who stroll through its kiosks, perhaps on a cold December day. These are set up in the historical centre of the city, more precisely, as the name suggests, in the Plaza Mayor usually in the days leading up to Christmas and are closed the day before the New Year. These remain open Sunday to Thursday from 10am to 9pm, and Friday, Saturday and public holidays until 10pm. The advice is to visit the market on Saturday or Sunday morning to avoid queues that will prevent you from enjoying the tour due to too many people.
This market has its roots in the 17th century, when it was still held in the Plaza de Santa Cruz, located next to the Plaza Mayor. It was a Christmas market where fruit and vegetables were sold as well as gifts and decorations. From the 19th century onwards, when sales began to be regulated, the Plaza Mayor became home to the market for sweets while the Plaza de Santa Cruz market was for gifts, such as nativity scene items and musical instruments. In 1944 it was decided to unite the two markets in the Plaza Mayor alone and in the 1980s the typical little houses that make up the market were established. Today, during the same days as the market, a merry-go-round for children and activities are organised in the Plaza de Santa Cruz.
Today, the market consists of 104 stalls in the shape of small houses with red-painted pointed roofs, reminiscent of the traditional Christmas markets of Northern Europe, where tourists but also locals can go for a stroll or to buy all kinds of objects such as figurines for the crib, toys, Christmas musical instruments, decorations and trees as well as sweets.
The traditional Christmas Market in Plaza Mayor
To get to the Plaza Mayor, one of the most historical places in the city, you have several ways. The nearest metro stops are Sol, which can be reached with the L2, L3 or L1 and Opera with the L5 or L2, while if you prefer to take the bus you have the 002, 17, 18, 23, 31, 35, 50, 65, SE712, N26 and M1 lines.
If, on the other hand, you arrive by car, you should know that parking in Madrid, as in any big city, is complicated: limited traffic zones to pollute less, prohibitions and traffic congestion are some of the reasons why finding parking in Madrid can be an almost impossible task. The best solution is definitely to find a public car park near Plaza Mayor, remembering to book your parking space in advance to avoid unpleasant inconveniences such as not finding a space. With Parkimeter you can book your parking space after comparing the various options and choosing the one that best suits your needs, saving effort and money.
How to get there and where to park at the Corte Inglés in Madrid
Another famous Christmas market in Madrid is the one held in the car park of the Corte Ingles. The latter, for those who don't know, is a large worldwide distribution warehouse based in Spain and consisting of various companies offering products of all brands and kinds, from cosmetics to technology.
These famous markets are set up every year, and are a perfect destination for those who want to spend an intimate evening with family and friends. They remain open to the public free of charge until 5 January, every day from 12 noon to 11pm, except on the 24th and 31st which may change.
These, like the markets in the Plaza Mayor, are inspired by the Northern European tradition, as can be seen by the shape of the roofs of the stalls that make them look like real houses. Inside you can find everything: clothes, hats, tree decorations, home decorations and toys or gifts. As in every traditional Christmas market, you cannot miss the Belen (nativity scene), with its typical figurines for sale. You will also find yourself surrounded by stalls where you can buy typical Christmas sweets, and where you can sample local gastronomic offerings. In addition, there are genuine food trucks with various proposals including croquettes burgers that have the reputation of being the best in Spain.
Mercadillo de Navidad - El Corte Ingles Castellana
The Corte Ingles Christmas market is located exactly on Calle Rimundo Fernandez Villaverde, metro stop Nuevo Ministerio lines L6, L8 and L10. You will be spoilt for choice if you decide to take the bus, as there are numerous numbers that stop near this street: 5, 7, 14, 27, 40, 126, 147, 149 ...
If you arrive by car and you are wondering where and how to park near the Corte Ingles in Madrid, with Parkimeter you will save time and energy searching for a parking space: you will be able to book your parking space in advance directly from the online platform, choosing and comparing it from the wide range of offers we propose.
Book a parking at Corte Ingles Madrid
How to get there and where to park at Paseo de Recoletos
The Craft Fair (or Feria de Artesanía in Castilian) of the Community of Madrid is a must if you are fascinated by art and quality objects, combined with the Christmas atmosphere.
This market used to be held in Plaza de España but was moved a few years ago to Paseo de Recoletos, one of the streets in the city centre between Cibeles and Colon, where more than 150 Madrid artisans, including leatherworkers, goldsmiths and fabric decorators, display their enchanting products representing not only the capital, but also all the other regions of Spain.
The fair is open from 1 to 30 December, except Christmas Day, from 11 a.m. to 9 p.m. and one can find jewellery, ceramics, toys, colourful fabrics and clothes.
Feria de Artesanía (Paseo de Recoletos)
The Madrid Handicrafts Fair, as mentioned above, is set up in Paseo de Recoletos, which is one of the city's famous and central streets. We therefore recommend that you reach the street by metro, or opt to leave your car in a more peripheral parking area and take public transport. The nearest metro stop is Banco de Espana, in L2, or Colon in L4, while if you opt for the bus you can choose to take the 001, 1, 2, 5, 9, 10, 14, 15, 20, 27, 34, 37, 45, 51, 52, 53, 74, 146, 150, 203, C03, E1, N1, N2, N3, N4, N5, N6, N7, N12, N15, N16, N17, N18, N19, N20, N21, N22, N23, N24, N25, N26, N27.
If you are arriving by car, and would like to have the convenience of parking it close to your destination without any inconvenience, we recommend some of the parking spaces on our offer: compare the various options, choose the one that best suits your needs and book your parking space near Paseo de Recoletos!