Salesas Village in Madrid: where to park to visit the city's best street market.
On the first Saturday of every month, you have a date with fashion, gastronomy, and design at Salesas Village, the best street market in Madrid.
13 September 2023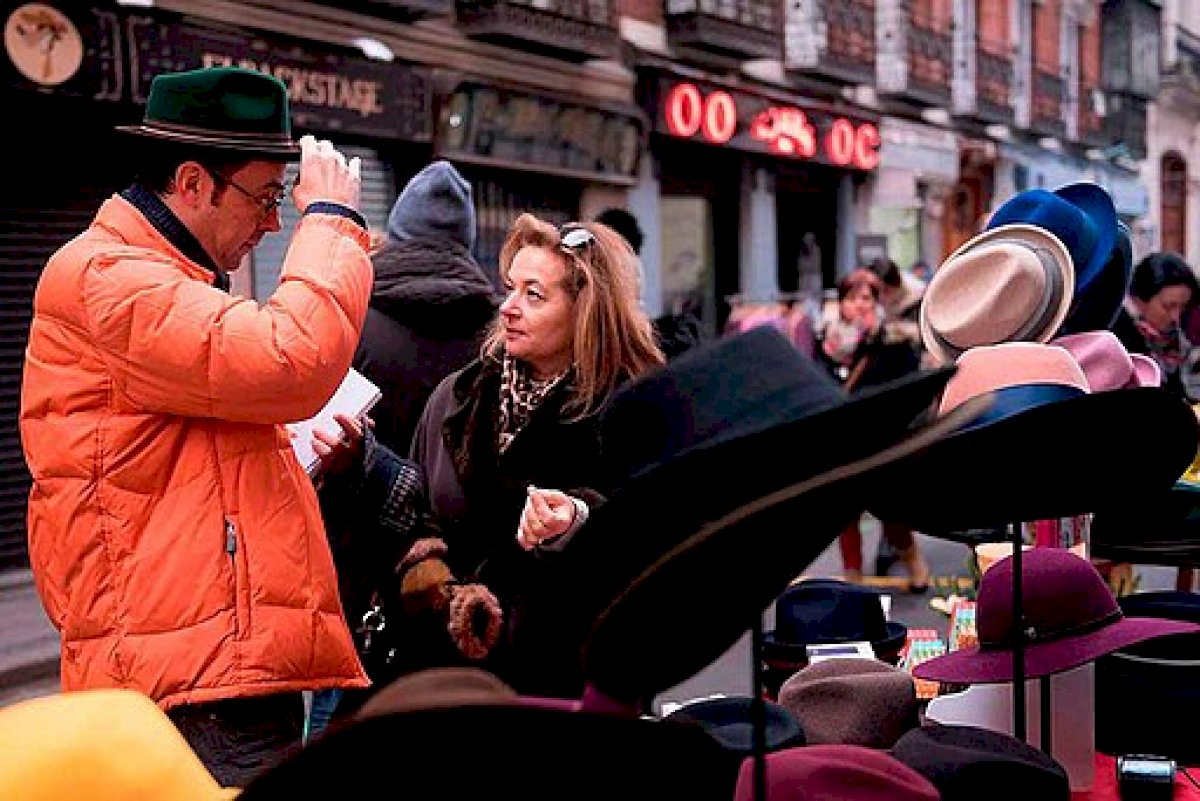 Salesas Village is a street market that takes place on the first Saturday of every month (except January and August). It combines design, fashion, and art with a wide gastronomic and musical offering. It is located in the Salesas neighborhood of Madrid, a neighborhood that blends traditional and modern elements.
Salesas Village is the perfect plan for a Saturday with friends: you can buy crafts and fashion items and enjoy a cocktail or have brunch in the neighborhood. This street market is held around three streets: Campoamor Street, Santa Teresa Street, Argensola Street, and Fernando VI Street. Every year, more designers and brands set up stalls, so it keeps growing. You can find all the updated information for each edition on the Salesas Village website. At Parkimeter, we want to make sure you have all the information to have a fantastic Saturday in true madrileño style.
How to Get to Salesas Village
To reach Salesas Village, you can use public transportation or your own car. If you prefer public transportation, you can easily get there from Alonso Martínez Metro Station (L7) or Colón Metro Station (L4). You can also take a bus since lines 3, 5, 7, 14, 21, 27, 37, 45, 150, L1, and L10 stop in the area. You'll reach the market area in just a few minutes.
If you'd rather go by car, Salesas Village is located at the heart of Madrid Central, between Chueca and Salamanca. It's easy to reach as it's close to Colón, where Castellana and Paseo Recoletos converge. Your navigation system will guide you there easily from anywhere in Madrid. Despite the feared Madrid Central restrictions, going by car won't be a problem as the parking lots in the Salesas area are authorized by Madrid Central and Madrid 360 to avoid fines.
Salesas Village Opening Hours
The opening hours of Salesas Village Madrid are from 11:30 AM to 8:00 PM. As you know, it takes place between Campoamor Street and Santa Teresa Street. The upcoming editions will be on September 16th, October 7th, November 4th, and December 16th. Please note that this market is not held in January or August, as they are low-activity vacation periods.
Where to Park Near Salesas Village
We know that finding parking in Madrid can be a challenging task. Keep in mind that the market takes place in a very iconic area where parking is quite difficult. You'll need to look for parking in a garage or on the streets farther away from the market because the streets in the vicinity will be closed to traffic on that day. Moreover, this area is a green zone in Madrid, so street parking is mainly reserved for residents (or non-residents at a slightly higher price). If you want to park near Salesas Village, you'll need to find a parking garage in the area or try your luck on the streets. If you ultimately decide to park in the green zone of Madrid, we recommend that you gather all the necessary information about parking in the green zone of Madrid.
What to See in the Salesas Neighborhood
After a day of shopping and enjoying vermouth, you may want to take the opportunity to visit Salesas since it's one of the most elegant neighborhoods in Madrid. There, you'll find the Santa Bárbara Palace, the Salesas Convent, the Cervantes Institute, and the Longoria Palace. These places are worth seeing even from the outside, especially the Longoria Palace, which will catch your eye as soon as you see it. It currently serves as the headquarters of SGAE in Madrid, and its modernist facade will leave you impressed. For the more modern-minded, you can buy a design book at the Taschen bookstore or get your film developed at La Peliculera ;-)
If you don't want to miss out and always stay up to date, visit Salesas Village in Madrid and enjoy a day of shopping!