Book a parking spot in Quick Garage Centrale Firenze car park
Address: Via dei Fossi, 50 R, 50123 Firenze (See similar parkings around)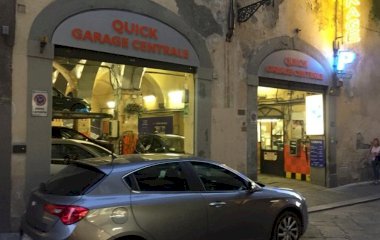 The Quick Garage Central is open every day of the year and is constantly monitored by video, so if you travel by train, you don't have to worry about the safety of your car.

The Quick Garage Central car park is located inside the ZTL (Limited Traffic Zone) of Florence, the reservation price includes 1,00 € for the registration of the car in the ZTL system.

Since 1 January 2019, the entry into force of Municipal Ordinance no. 2018/00301, permanently prohibits the circulation within the perimeter of the ZTL (Limited Traffic Zone) of vehicles belonging to the environmental classes Euro 0 and 1 gasoline and Euro 0, 1 and 2 diesel.
Any infringement of the ordinance will result in the fines and/or penalties provided for by it.

Quick Garage Central is a fully indoor parking lot for cars, motorcycles and vans. These rates apply only to medium-sized vehicles (length < 5,0 meters). For bookings that do not correspond to the type of vehicle, the difference will be invoiced according to the rates in force on the car park.
This parking is inside the limited traffic zone ZTL Florencia.
The car park is located within the Florence Limited Traffic Zone (ZTL).
Upon arrival you will have to pay a fee that will allow the car park staff to enter your vehicle's registration number in the list of those authorized to enter the ZTL.
The registration covers a single entry/exit of the ZTL zone.
Whenever you want to enter or leave the car park during the hours in which the ZTL is active, you will have to pay an additional fee.
Directions
When you arrive at the car park, hand over the vehicle keys to the Quick operator, who will park it. Then, go to the control room with the correct Parkimeter, the staff will validate it and give you a receipt.
When you return, give the operator the booking form with the receipt.
Parking access system

When you enter the car park take the ticket and show your confirmation at the control booth.
Booking rates
* Prices may vary by season.
ONEPASS

You can't get in and out during your stay.

ONEPASS
ONEPASS

You can't get in and out during your stay.

ONEPASS
One hour
€18.00
€18.00
2 hours
€18.00
€18.00
3 hours
€26.00
€24.00
4 hours
€34.00
€29.00
12 hours
€35.00
€29.00
24h

€35.00

€29.00

2 days

€70.00

€58.00

3 days

€105.00

€87.00

4 days

€140.00

€116.00

5 days

€175.00

€145.00

6 days

€210.00

€174.00

7 days

€245.00

€203.00

14 days

€490.00

€406.00

21 days

€735.00

€609.00

31 days
€1,085.00

€980.00

€899.00