New Linate Parking - Isola del Tronchetto
Address:
Viale Enrico Forlanini, 123, 20134, Milano (Other parkings around)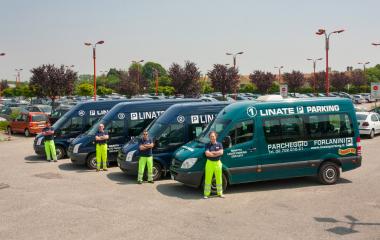 New Linate Parking is located only 150 m. from Linate (Milan) airport and is ideal if you have to take a flight at this airport.

The car park has a free, safe and fast shuttle service to transfer you from the parking area to the Linate airport departures, in less than 10 minutes.

You do not need to leave your car keys, the parking has fire and theft insurance and it is open and guarded, by qualified personnel 24/7.
Indications
New Linate Parking is located in Viale Enrico Forlanini 123 in Milan, the parking is easily accessible from the "Linate" exit of the Tangenziale Est. Before entering the airport, at the traffic light, take Viale Forlanini towards Milan. After 100 meters you will arrive at the New Linate Parking entrance.
Parking access system
When you enter the car park take the ticket and show your confirmation at the control booth.
Transfer
Transportation to the terminal is included using the parking shuttle.
| | |
| --- | --- |
| Travel time | 7 min. |
| Shuttle frequency | 3 min. |
Booking rates
* Prices may vary by season.
ONEPASS

You can't get in and out during your stay.

ONEPASS
ONEPASS

You can't get in and out during your stay.

ONEPASS
ONEPASS

You can't get in and out during your stay.

ONEPASS
ONEPASS

You can't get in and out during your stay.

ONEPASS
ONEPASS

You can't get in and out during your stay.

ONEPASS
ONEPASS

You can't get in and out during your stay.

ONEPASS

Only for bookings that start later than 2024-01-19.

Only for bookings that start later than 2023-12-18.
Only for bookings that start sooner than 2024-01-18.

Only for bookings that start later than 2023-09-11.
Only for bookings that start sooner than 2023-12-17.

Only for bookings that start later than 2023-06-12.
Only for bookings that start sooner than 2023-09-10.

Only for bookings that start sooner than 2023-06-11.

One hour
€15.00
€16.00
€15.00
€16.00
€15.00
€17.00
2 hours
€15.00
€16.00
€15.00
€16.00
€15.00
€17.00
4 hours
€15.00
€16.00
€15.00
€16.00
€15.00
€17.00
8 hours
€15.00
€16.00
€15.00
€16.00
€15.00
€17.00
12 hours
€15.00
€16.00
€15.00
€16.00
€15.00
€17.00
24h

€15.00

€16.00

€15.00

€16.00

€15.00

€17.00

2 days
€30.00

€25.00

€32.00

€27.00

€30.00

€25.00

€32.00

€27.00

€30.00

€25.00

€34.00

3 days
€45.00

€35.00

€48.00

€38.00

€45.00

€35.00

€48.00

€38.00

€45.00

€35.00

€51.00

7 days
€105.00

€62.00

€112.00

€77.00

€105.00

€62.00

€112.00

€77.00

€105.00

€62.00

€119.00

€75.00

14 days
€210.00

€91.00

€224.00

€112.00

€210.00

€91.00

€224.00

€112.00

€210.00

€91.00

€238.00

€103.00

21 days
€315.00

€119.00

€336.00

€147.00

€315.00

€119.00

€336.00

€147.00

€315.00

€119.00

€357.00

€152.00

30 days
€450.00

€155.00

€480.00

€192.00

€450.00

€155.00

€480.00

€192.00

€450.00

€155.00

€510.00

€215.00