Book a parking spot in My Valet services 2.0 Aéroport de Marseille car park
Entrances:
Dépose- minute devant hall de departs des Terminal, 13700, Marignane (Other parkings around)
Dépose- minute devant hall de departs des Terminal (Other parkings around)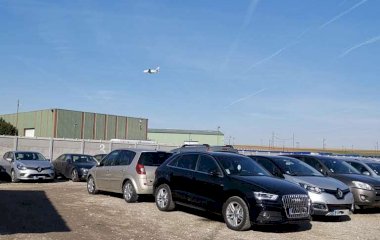 Indications
There's no need to go to the parking lot. Go directly to the terminal, the parking staff will pick up your vehicle and return it to you when you return. To avoid unnecessary delays, please contact our staff 20 minutes prior to your arrival. One of our drivers (wearing a black jacket with the company logo) will be waiting for you in front of the different departure rooms of Terminals in the parking area: (dépose - minute.)

Parking access system
Drive directly to the terminal. A driver will be waiting to pick up your vehicle.
Transfer
Delivery and pick up of the vehicle at the terminal.
Important information about transfer service
At departure, at least 20 minutes before your arrival at the terminal, call one of the numbers listed in the booking confirmation email to properly coordinate the delivery of your vehicle. When you return, call the same number to coordinate reception.