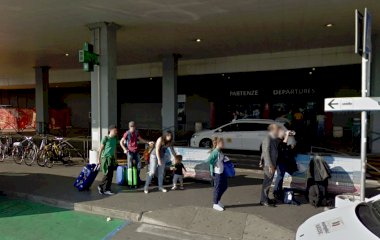 Orio Parking is an outdoor satellite parking of the Bergamo-Orio al Serio International Airport. It is also one of the largest car parks in the area, a few minutes away from the departure terminal and next to Orio Center, the largest mall in Italy and one of the largest in Europe. Orio Parking is a secure and video-monitored parking lot.
Parking access system
Drive directly to the terminal. A driver will be waiting to pick up your vehicle.
Transfer
Delivery and pick up of the vehicle at the terminal.
Important information about transfer service
You do not need to go to the parking lot. With the car valet service, contact the parking staff 5 minutes before your arrival at the airport and one of its drivers, wearing uniform, will be waiting for you outside the arrivals. On return, once landed, call the same number and wait for the driver to arrive at the same meeting point.
Booking rates
* Prices may vary by season.
ONEPASS

You can't get in and out during your stay.

ONEPASS
ONEPASS

You can't get in and out during your stay.

ONEPASS
ONEPASS

You can't get in and out during your stay.

ONEPASS
ONEPASS

You can't get in and out during your stay.

ONEPASS

Only for bookings that start sooner than 2021-05-31.

Only for bookings that start sooner than 2021-05-31.

Only for bookings that start later than 2021-06-01.

Only for bookings that start later than 2021-06-01.

One hour
€30.80
€46.20
€30.06
€45.09
2 hours
€30.80
€46.20
€30.06
€45.09
3 hours
€30.80
€46.20
€30.06
€45.09
4 hours
€30.80
€46.20
€30.06
€45.09
12 hours
€30.80
€46.20
€30.06
€45.09
1 day

€30.80

€46.20

€30.06

€45.09

2 days
€61.60

€33.44

€92.40

€50.16

€60.12

€32.22

€90.18

€48.33

3 days
€92.40

€36.96

€138.60

€55.44

€90.18

€35.64

€135.27

€53.46

4 days
€123.20

€38.72

€184.80

€58.08

€120.24

€38.52

€180.36

€57.78

5 days
€154.00

€39.60

€231.00

€59.40

€150.30

€42.57

€225.45

€63.86

6 days
€184.80

€41.36

€277.20

€62.04

€180.36

€45.54

€270.54

€68.31

7 days
€215.60

€43.12

€323.40

€64.68

€210.42

€49.50

€315.63

€74.25

14 days
€431.20

€55.44

€646.80

€83.16

€420.84

€63.54

€631.26

€95.31

21 days
€646.80

€67.76

€970.20

€101.64

€631.26

€75.51

€946.89

€113.27

31 days
€954.80

€85.36

€1,432.20

€128.04

€931.86

€101.70

€1,397.79

€152.55