Book a parking spot in Zenpark Gare Montparnasse - CCI car park
Address:
19 Rue Antoine Bourdelle, 75015, Paris (Other parkings around)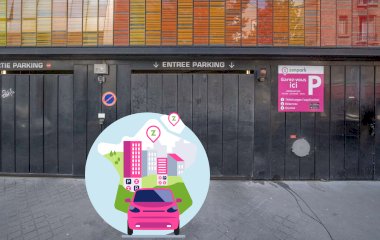 This parking is inside the limited traffic zone ZTL Paris.
Parking in Paris may not be possible if you want to park in the centre.
To drive in Paris without being penalised by a fine you must absolutely order your Crit'air sticker, your access will depend on the level of pollution established at that time and the sticker number corresponding to the level of pollution of your vehicle. You must order it at least 3 days in advance from the government website: https://www.certificat-air.gouv.fr/

Don't take the risk of arriving and there are no more places available! Make your reservation with Parkimeter and make sure you have a place when you arrive in the parking lot.
Indications
The parking spaces are located on levels -1 and -2.
Please park only in the parking spaces marked with a sign "Place réservée", Zenpark.
There are specific spaces reserved for motorcycles on level -1, at the beginning of the row.

Exit on foot: Follow the Zenpark signs.
Please note that walking out is strictly forbidden by the vehicle access, use the pedestrian accesses provided for this purpose.

Return on foot: Follow the Zenpark signs.
Through the gate to the left of the vehicle entrance/exit gate at 17, rue Antoine Bourdelle.
Use the pedestrian button on the app or on the voucher to open the gate. Some lights are not automatic, so if you need to, flip the switch to turn the light on.
Parking access system
Open the parking access door by clicking on the link you will find in the booking confirmation voucher.