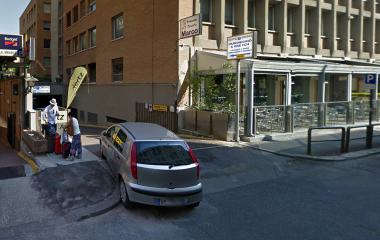 This parking is inside the limited traffic zone ZTL Roma Anello Ferroviario .
This car park is located inside the Limited Traffic Zone (ZTL) Anello Ferroviario, where from Monday to Friday, petrol and diesel vehicles (Euro 0, Euro 1 and Euro 2) are not allowed to circulate. In case of alarm due to high pollution levels, these restrictions are also applicable to vehicles of other environmental categories.

WARNING!
Access and circulation are not permitted under any circumstances when the LTZ is active.
In Rome car parks are NOT allowed to authorize access to the ZTL.
Always check the activation times to access the car park.

Further information https://romamobilita.it/it/servizi/ztl
Directions
This parking lot provides an on-demand electric vehicle charging service (E-GAP). The service is provided by a mobile van that will arrive at the parking lot and start the charging process within 60 minutes of the request.

To obtain the service, simply make a request once you have arrived at the parking lot. From there, the parking lot employee will send the request to the provider.

Remember that you must pay for this charging service received at the parking lot, once you have made the request and before leaving the parking lot. This service is not included in the price of your reservation.

Parking access system

When you enter the car park take the ticket and show your confirmation at the control booth.
Booking rates
* Prices may vary by season.
ONEPASS

You can't get in and out during your stay.

ONEPASS
ONEPASS

You can't get in and out during your stay.

ONEPASS
ONEPASS

You can't get in and out during your stay.

ONEPASS
One hour
€3.00
€5.00
€10.00
2 hours
€6.00
€8.00
€15.00
4 hours
€12.00
€14.00
€27.00
8 hours
€21.00
€26.00
€49.00
12 hours
€21.00
€30.00
€49.00
24h

€21.00

€30.00

€49.00

2 days
€42.00

€36.00

€60.00

€54.00

€98.00

€84.00

3 days
€63.00

€46.00

€90.00

€74.00

€147.00

€119.00

7 days
€147.00

€86.00

€210.00

€154.00

€343.00

€259.00

14 days
€294.00

€156.00

€420.00

€224.00

€686.00

€364.00

21 days
€441.00

€226.00

€630.00

€294.00

€1,029.00

€459.00

30 days
€630.00

€316.00

€900.00

€384.00

€1,470.00

€549.00