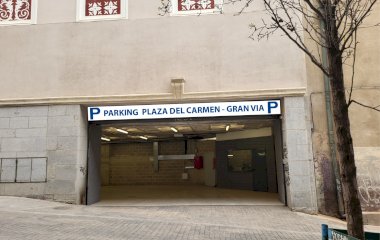 The car park is located between the streets Gran Via, Montera and Puerta del Sol.

This modern car park is located a few metres from the Gran Vía, in the Plaza del Carmen, just a few metres from the Muñoz Seca Theatre and the famous Doña Manolita Lottery Administration.

Puerta del Sol and Plaza Mayor are less than 5 minutes walk away. It is perfect even if you want to go out for a drink in Malasaña or if you want to spend an afternoon shopping among the many shops on Gran Vía, as well as close to Preciados street.

The Gran Vía (lines 1 and 5), Sol (lines 1, 2 and 3) and Callao (lines 3 and 5) metro stations are just 100 metres from the car park.

Parking access system

When you enter the car park take the ticket and show your confirmation at the control booth.
Booking rates
* Prices may vary by season.
MULTIPASS

You can get in and out during your stay (Valid only for more than one day reservations and within the parking opening hours).

MULTIPASS
MULTIPASS

You can get in and out during your stay (Valid only for more than one day reservations and within the parking opening hours).

MULTIPASS
MULTIPASS

You can get in and out during your stay (Valid only for more than one day reservations and within the parking opening hours).

MULTIPASS
MULTIPASS

You can get in and out during your stay (Valid only for more than one day reservations and within the parking opening hours).

MULTIPASS
MULTIPASS

You can get in and out during your stay (Valid only for more than one day reservations and within the parking opening hours).

MULTIPASS
MULTIPASS

You can get in and out during your stay (Valid only for more than one day reservations and within the parking opening hours).

MULTIPASS
MULTIPASS

You can get in and out during your stay (Valid only for more than one day reservations and within the parking opening hours).

MULTIPASS

Only for bookings that start on Saturday.

Only for bookings that start on Friday.

Only for bookings that start on Thursday.

Only for bookings that start on Wednesday.

Only for bookings that start on Tuesday.

Only for bookings that start on Monday.

Only for bookings that start on Sunday.

One hour
€3.00
€3.00
€3.00
€3.00
€3.00
€3.00
€3.00
2 hours
€6.00
€6.00
€6.00
€6.00
€6.00
€6.00
€6.00
4 hours
€12.00
€12.00
€12.00
€12.00
€12.00
€12.00
€12.00
8 hours
€24.00
€24.00
€20.95
€20.95
€20.95
€20.95
€24.00
12 hours
€30.90
€30.90
€20.95
€20.95
€20.95
€20.95
€30.90
24h

€30.90

€30.90

€20.95

€20.95

€20.95

€20.95

€30.90

2 days

€61.80

€61.80

€41.90

€41.90

€41.90

€41.90

€61.80

3 days

€92.70

€92.70

€62.85

€62.85

€62.85

€62.85

€92.70

7 days

€216.30

€216.30

€146.65

€146.65

€146.65

€146.65

€216.30

14 days
€432.60

€300.00

€432.60

€300.00

€293.30

€293.30

€293.30

€293.30

€432.60

€300.00

21 days
€648.90

€300.00

€648.90

€300.00

€439.95

€300.00

€439.95

€300.00

€439.95

€300.00

€439.95

€300.00

€648.90

€300.00

30 days
€927.00

€300.00

€927.00

€300.00

€628.50

€300.00

€628.50

€300.00

€628.50

€300.00

€628.50

€300.00

€927.00

€300.00