›

›

›
Book a parking spot in BSM Rius i Taulet - Fira Montjuïc - ONE PASS car park
Address: Avinguda Reina Maria Cristina, 16, 08004 Barcelona (See similar parkings around)
Parking near Barcelona Pavilion - Mies Van Der Rohe, Font Màgica of Montjuïc, Plaça d'Espanya, Poble Espanyol, CaixaForum - Museum, National Art Museum of Catalonia, Fira Barcelona - Montjuïc, Palau de Congressos de Barcelona.
Directions
​This parking has ​an additional ​entry at the ​2, Rius i Taulet​ ​street​, i​t​'s​ ever ​open. Such access ​could be used when the Avda. Maria Cristina is​ ​closed​ by fair or any other event.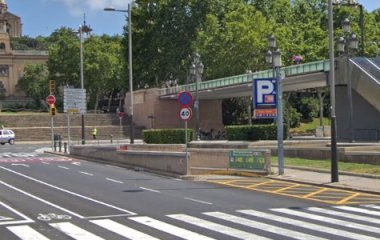 Parking access system
When you enter the car park take the ticket and show your confirmation at the control booth.
Booking rates * Prices may vary by season.
ONEPASS

You can't get in and out during your stay.

ONEPASS

You can't get in and out during your stay.

One hour
€5.50
€9.95
2 hours
€5.50
€9.95
3 hours
€5.50
€9.95
4 hours
€7.00
€9.95
1 day
€9.95
1 Park&Ride 1 día
€9.95
1 Park&Ride 1 día
2 days
€19.90
1 Park&Ride 2 día

€19.90

€18.90
1 Park&Ride 2 días
3 days

€29.85

€27.85
1 Park&Ride 3 día

€29.85

€26.85
1 Park&Ride 3 días
4 days

€39.80

€35.80
1 Park&Ride 4 día

€39.80

€34.80
1 Park&Ride 4 días
5 days

€49.75

€43.75
1 Park&Ride 5 día

€49.75

€42.75
1 Park&Ride 5 días
6 days

€59.70

€51.70
1 Park&Ride 6 día

€59.70

€49.60
1 Bonus Card 7 días
7 days

€69.65

€59.65
1 Park&Ride 7 día

€69.65

€49.60
1 Bonus Card 7 días
14 days

€139.30

€119.30
2 Park&Ride 7 día

€139.30

€56.00
1 Bonus Card 15 días
21 days

€208.95

€178.95
3 Park&Ride 7 día

€208.95

€79.20
1 Bonus Card 30 días
31 days

€308.45

€266.45
4 Park&Ride 7 día + 1 Park&Ride 3 día

€308.45

€89.15
1 Bonus Card 30 días + 1 Park&Ride 1 día