If you want to enjoy a fully covered and closed parking lot, next to the Barcelona-Sants Station, the Estación car park is what you are looking for. Everything is very simple, comfortable and fast, with this parking. You only have to park your vehicle and walk 4 minutes to the station. The places "Parking Estación", located inside a modern three-storey building, are interior and closed. The parking has video surveillance cameras, alarm and lighting. Book with Parkimeter, park at Parking Estación and travel.
Directions
Parking located next to the Barcelona-Sants Station. We recommend arriving at least 15 minutes before your train's departure time.

Parking ENTRANCE:
1. When entering, take a ticket and keep it, you will need it to exit.
2. Drive to the floor -3.
3. Park in the area signposted Parking Estación.

IMPORTANT: You can only park in this area.

Parking DEPARTURE:
1. Before leaving, go to the PARKING ESTACION counter (floor -3)
2. Show the ticket you took when entering and the Parkimeter booking confirmation to the PARKING ESTACION staff. If there are no staff, use the intercom next to the exit barrier and provide your name, registration number and Parkimeter reservation number.
3. They'll tell you what to do to get out.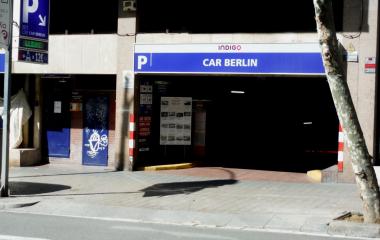 Parking access system
When you enter the car park take the ticket and show your confirmation at the control booth.