Outdoor car park next to the airport for long-term stays.
Call the parking, access the Express departures terminal car park and take the entrance ticket (free). Leave your car, the staff will pick it up and it will be waiting for you when you will be back.

You will find all the necessary information in the reservation confirmation mail.

The parking ADMITS all types of vehicles of less than 5 m long (Motorcycles, cars, 4x4). The vehicles of more than 5 m, pay double rate.
Directions
When arriving at the airport, go to the Express departures terminal car park and leave your car -at the gate, take the free entrance ticket- an employee from the parking lot will be waiting for you.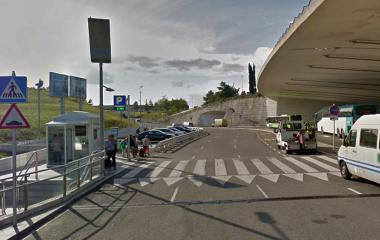 Parking access system
Drive directly to the terminal. A driver will be waiting to pick up your vehicle.
Transfer
Delivery and pick up of the vehicle at the airport terminal.
Important information about transfer service
You don't need to go to the parking. A driver with the parking sign will be waiting for you at the Airport Departures terminal to collect your vehicle. You must call 20 minutes before arriving to the airport in order to coordinate the collection of the vehicle.