›

›

›
Book a parking spot in Llollo Atocha Estación - VALET car park
Address: Estacion Madrid Puerta de Atocha, 28007 Madrid (See similar parkings around)
VALET service to collect and return your vehicle at the same DEPARTURE area of Madrid Puerta de Atocha Station.
A driver will be waiting for you and will take your vehicle to the car park located at Avenida Ciudad de Barcelona 162, a very close covered and guarded car park
30 minutes before the time of delivery of the vehicle indicated in the reservation, Llollo staff will contact you.

Parking near Madrid Atocha railway station.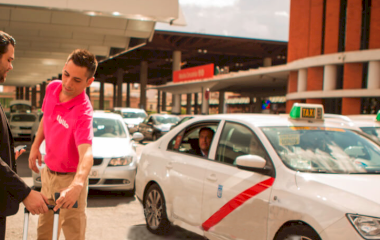 Parking access system
Drive directly to the terminal. A driver will be waiting to pick up your vehicle.
Transfer
Delivery and pick up of the vehicle at the terminal.
Booking rates * Prices may vary by season.
ONEPASS

You can't get in and out during your stay.

ONEPASS

You can't get in and out during your stay.

ONEPASS

You can't get in and out during your stay.

ONEPASS

You can't get in and out during your stay.

One hour
€0.00
€0.00
€0.00
€0.00
2 hours
€0.00
€0.00
€0.00
€0.00
3 hours
€0.00
€0.00
€0.00
€0.00
4 hours
€0.00
€0.00
€0.00
€0.00
1 day
n/a
n/a
n/a
€25.99
2 days
€39.99
€39.99
€39.99

€51.98

€39.99
3 days
n/a
n/a
n/a

€77.97

€52.49
4 days
n/a
n/a
n/a

€103.96

€74.99
5 days
n/a
n/a
n/a

€129.95

€64.99
6 days
n/a
n/a
n/a

€155.94

€74.99
7 days
n/a
n/a
n/a

€181.93

€84.99
14 days
n/a
n/a
n/a

€363.86

€154.99
21 days
n/a
n/a
n/a

€545.79

€224.99
31 days
n/a
n/a
n/a

€805.69

€324.99